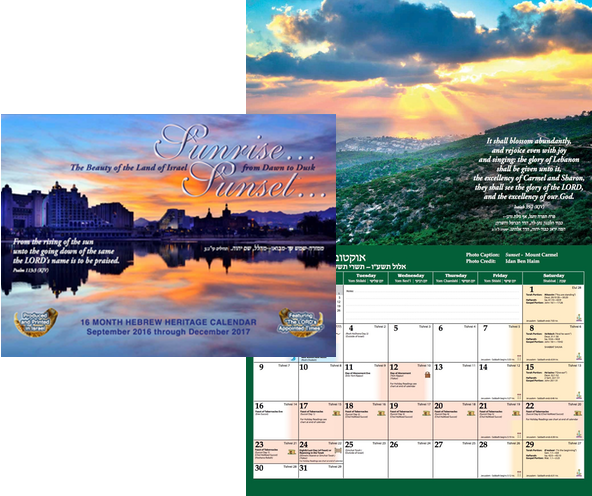 "Sunrise... Sunset"
16-month (Sept 2016 through Dec 2017) Photo calendar from Israel, featuring sixteen beautiful photos of Israel with Scriptures in English and Hebrew.
DIMENSIONS:
Closed 11.8 X 6.7 inches (30 x 22 cm)
Open 11.8 X 17.0 inches (30 x 44 cm)
To place a wholesale order (of 15 or more calendars) or for more information, contact us at:
What can these calendars do for your congregation / fellowship / bookstore?
Effective fund-raising tool for ministries. Also wonderfully cost effective as a donor-relations gift
Valuable teaching resource for the Jewish/Hebraic roots of Christianity, the Biblical feasts and Israel
Great for re-sale. Please ask us for wholesale discounts
Excellent way to connect and show your support for Israel and Israeli believers
What makes our calendars unique and attractive?
ALL MAJOR BIBLICAL/JEWISH HOLIDAYS ("The LORD's Appointed Times") marked and explained in a special reference chart at back of calendar. MAJOR ISRAELI HOLIDAYS also included.
All dates in both Jewish/Lunar and Gregorian/solar calendar systems, in English and Hebrew
References shown for all WEEKLY SCRIPTURE PORTIONS (Torah and Haftarah), plus "Gospel Portions."
SABBATH (Shabbat) beginning and ending times
GORGEOUS photos and art
Each page SUITABLE FOR FRAMING.
Each calendar day has a LARGE WRITING AREA. In addition, each calendar month has one or more writing spaces for reminders and notes.
Four pages of HEBREW LEARNING MATERIAL (for the "Spirit of Grace and Supplication" Art Calendar)
PRODUCED AND PRINTED IN ISRAEL, TO THE HIGHEST STANDARDS!

Customized with your own information prominently displayed on the calendar flap
For wholesale pricing of 15 more calendars please contact
To reach us by phone, our Toll-Free U.S. phone is (866) 743-3320. Please leave your voice message and we will return your call.