Biblical Calendars and Other Products From Israel
Calendars - 16 Months | Sept. 2023-Dec. 2024
Jerusalem Then and Now
Photo calendar with Stunning Photos
of the Holy City
NEW - Sept. 2023-Dec. 2024
Prophecies
Art calendar with Magnificent
Paintings by Larissa Lando
NEW - Sept. 2023-Dec. 2024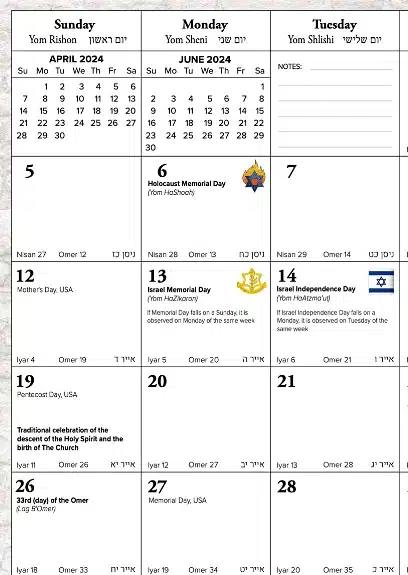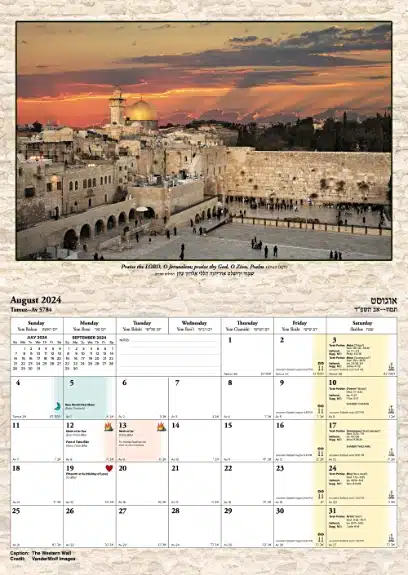 Unique features of our calendars
Major Biblical/Jewish and Israeli holidays with extensive explanation, plus major U.S. holidays
Scriptures in English and Hebrew
Dates in both Jewish/Lunar and Gregorian/solar calendar systems
Sabbath beginning and ending times
Weekly Torah, Haftarah and suggested New Testament portions, plus Holiday readings
Sabbath and Holiday Readings (noted on the calendar dates) are also listed in a removable chart format, good for inserting in one's Bible
Messianic prophecies from the Tanach (Hebrew Bible) and their fulfillment in the New Testament
Lovely art and photos, frameable
Hebrew Learning Materials
A selection of suggested Traditional and Messianic Holiday and other Blessings, in English and Hebrew
Other special features
Made in Israel
Jerusalem Then and Now
Various photographers
RareHistoricalPhotos.com
John Theodor, Oleg Zaslavsky, Boris Diakovsky, Victor Jiang, Art Mari, VanderWolf Images, Seth Aronstam, Zev Sigulim
Prophecies
Featured Artist: Larissa Lando
Larissa Lando was born in Rybinsk, Russia. She trianed for many years, including college, in classical painting and eventually taught art. Then for some time Larissa managed the Art Department at the Drama Theater in Rybinsk. With her husband, Larissa immigrated (made Aliyah) to Israel where she further developed her beautiful artistry. Upon moving bak to Russia, Larissa has been making her incredible artwork.
What our customers say
Catherine
Outstanding source for God's feasts, New Moons and festivals. Beautiful art work. Inspirational Scriptures. Fantastic Sabbath Scripture resource.
Inspiring and useful.
Mike
The calendar is made in the promised land of Israel. It is more than I expected.
There are lessons, prayers and wonderful pictures inside. There are great details in the date and days inside each page.
I highly recommend this calendar for the New Year in the Lord.
Ska
Of all of the Jewish calendars we have bought through the years, this one is by far the BEST! We'd recommend it to ALL interested in having/using a Jewish calendar! One of the best features for us is the highlighted portions for when events and Feasts begin at sundown. Whereas on other Jewish calendars there are just words that say the holiday is on the full day, this calendar highlights the start of the holiday at the edge of the "sundown" day and into the next day, and the highlight ends leaving a portion of the "full" day empty. It brings out that the holiday goes from sundown to sundown. Everyone I've shown this calendar to wants to know where we bought it! Everyone loves this calendar! PLEASE, keep creating your calendars, yearly!!!!!!
Tonia
This is a beautiful calendar. I like that it is from Israel.
I am very pleased with this purchase (I bought 3).