Biblical Calendars and Other Products From Israel
Calendars sold out. Our new line of September 2020 through December 2021 calendars will be available June 22nd!
We hope our calendars and other products will help you feel closer to Israel, especially during this season of COVID related travel restrictions!
The Calendars are Sold Out. Our upcoming line of September 2021 through December 2022 calendars should be available in late June.
To be notified when they are, please let us know here:
16 Months | September 2020-December 2021
Jerusalem of Gold
Photo calendar featuring stunning photographs of Jerusalem by John Theodor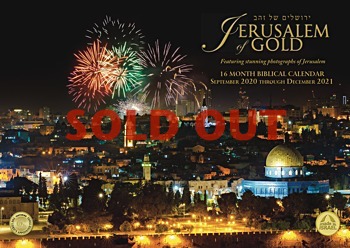 Order 5 or more calendars and receive one Israeli flag!
Reflections of Israel
Art calendar with beautiful watercolor paintings of Israel by artist Pamela Suran.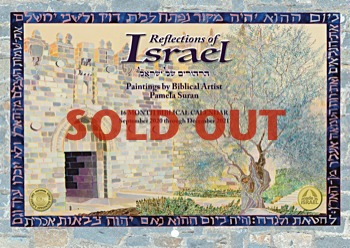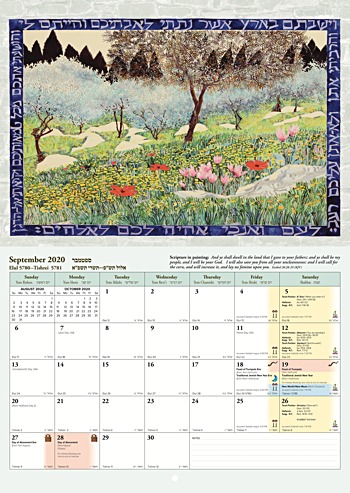 Order 5 or more calendars and receive one Israeli flag!
Unique features of our calendars
All major Biblical/Jewish and Israeli holidays with extensive explanation, plus major U.S. holidays
All calendars feature Scriptures in English and Hebrew
All dates in both Jewish/Lunar and Gregorian/solar calendar systems
Weekly Torah and Haftarah portions plus Suggested New Testament Readings
Sabbath beginning and ending times
GORGEOUS art and photos, frameable
Hebrew Learning Materials
Other special features
Made in Israel
Jerusalem of Gold
Featured Artist: John Theodor
JOHN THEODOR immigrated to Israel in 1997 from Sydney Australia. He belongs to the Messianic community and co-pastors one of the congregations in the city In 2000 John established a Jerusalem-based company called PhotoZion. Living in Israel, he saw the historic and biblical importance of the Promised Land and wanted to share the beauty of Israel with the world. Through the lens he captures the breathtaking beauty of the Land and the blessed grace upon her people. PhotoZion provides images of Israel to the public and has a wonderful selection of biblical greeting cards combining stunning views of Israel with inspirational verses from the Bible.
Reflections of Israel
Featured Artist: Pamela Suran
PAMELA SURAN is a Jerusalem artist who specializes in painting landscapes of Eretz Israel and combining these with the Hebrew Scriptures. Her appreciation for the beauty of the land in all its seasons inspires her with Biblical references concerning God's plan for Israel with a focus on Jerusalem. The paintings in the calendar are a selection from published work she has painted over a span of three decades. "My series, "Gates of Jerusalem", "If I Forget You 0 Jerusalem" and "Galilean Landscapes" reflect my love and prayer for God's Promised Land and His people. I have had many exhibitions both in Israel, Europe and the United States."
What our customers say
[testimonials_cycle theme="no_style" count="10" order_by="date" order="ASC" show_title="0" use_excerpt="0" show_thumbs="0" show_date="1" show_other="1" hide_view_more="0" output_schema_markup="1" show_rating="stars" testimonials_per_slide="1" transition="fade" timer="5000" pause_on_hover="true" auto_height="container" show_pager_icons="1" prev_next="1" display_pagers_above="0" paused="0"]