Biblical Calendars and Other Products From Israel
Our New Line of Calendars for Sept 2022 through Dec 2023
will be available via our website on June 24th!
Calendars - 16 Months | Sept. 2021-Dec. 2022
A Time, A Season
Photo calendar with Scenic photos of Israel featuring Ecclesiastis 3:1-8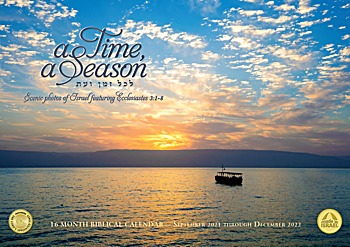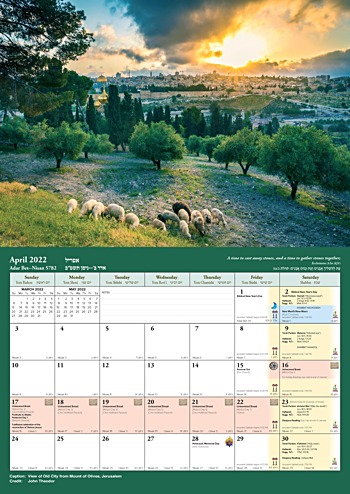 Unique features of our calendars
Major Biblical/Jewish and Israeli holidays with extensive explanation, plus major U.S. holidays
Scriptures in English and Hebrew
Dates in both Jewish/Lunar and Gregorian/solar calendar systems
Sabbath beginning and ending times
Weekly Torah, Haftarah and suggested New Testament portions, plus Holiday readings

NEW

- Sabbath and Holiday Readings (which are noted on the calendar dates) are also listed in a removable chart format, good for inserting in one's Bible

NEW

- Messianic prophecies from the Tanach (Hebrew Bible) and their fulfillment in the New Testament
GORGEOUS art and photos, frameable
Hebrew Learning Materials

NEW

- A selection of suggested Traditional and Messianic Holiday and other Blessings, in English and Hebrew
Other special features
Made in Israel
Psalms
Featured Artist: Karin Foreman
KARIN FOREMAN specializes in digital mixed media. She has earned degrees in graphic design and fine arts. Foreman's mixed media art has been shown at several art exhibits. Foreman has been featured and honored at a private reception at the Louvre in France. In addition, her artwork was also exhibited at The Monaco Yacht Show (Monte Carlo), Beurs van Berlage (Amsterdam), ArtExpo (New York), 4 Times Square in New York (formerly known as the Condé Nast Building), the Architectural Digest Design Show (New York), Art Basel Miami, The Studios on the Park in Paso Robles, the PhotoPlace Gallery in Vermont and twice at the Modern Contemporary Los Angeles Art Fair. Foreman's artwork has been featured in magazines, publications, calendars, and various art and photography books. And it graces the walls of several organizations and private homes. Her wearable art of 100% silk scarves is worn globally.
A Time, A Season
Various photographers
Alexey Stiop
Axtem
Boris-B
irisphoto1
John Theodor
kavram
Prorasov AN
Roniuru
vvvita
What our customers say
[testimonials_cycle theme="no_style" count="10" order_by="date" order="ASC" show_title="0" use_excerpt="0" show_thumbs="0" show_date="1" show_other="1" hide_view_more="0" output_schema_markup="1" show_rating="stars" testimonials_per_slide="1" transition="fade" timer="5000" pause_on_hover="true" auto_height="container" show_pager_icons="1" prev_next="1" display_pagers_above="0" paused="0"]