Hebraic Roots Calendars
from Israel, for Christians
and Messianic Believers

Calendars for 2015-2016
(September 2015 through December 2016)
[raw]
[one_third]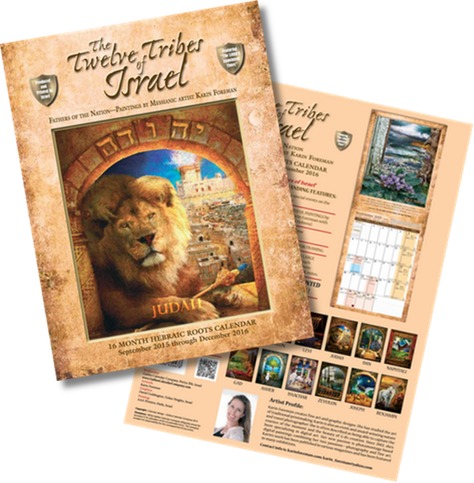 "The Twelve Tribes of Israel" Art Calendar with gorgeous paintings by Karin Foreman
Click for more details, pictures and ordering details
[button link="https://www.galileecalendarcompany.com/twelve-tribes-of-israel/" color="orange" target="_self" size="medium" title="View Details"]View Details[/button]
[/one_third]
[one_third]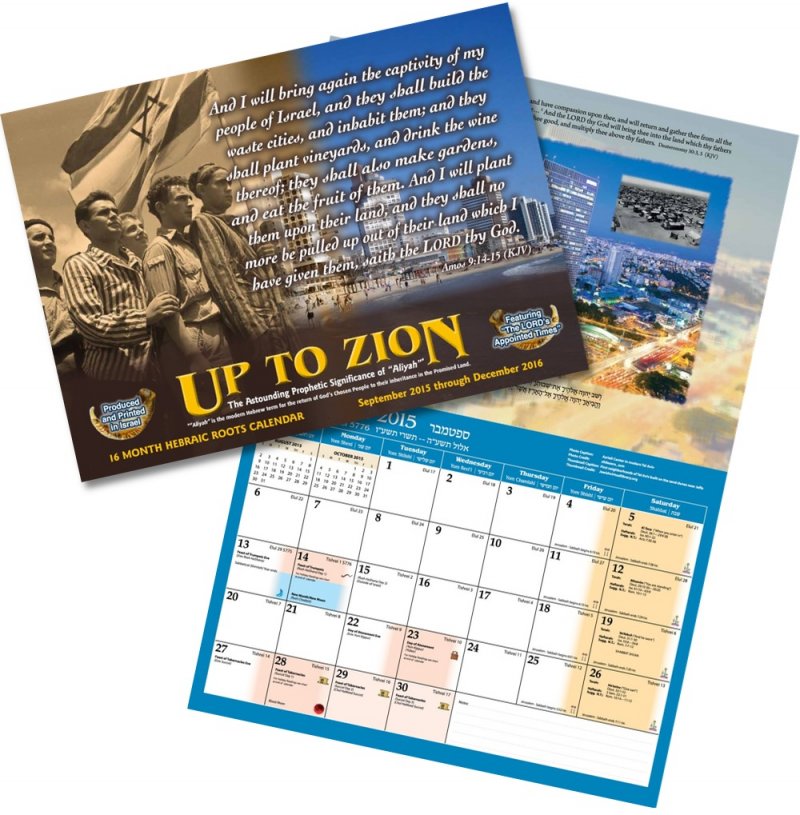 "Up to Zion" Photo Calendar with inspiring "then and now" photos of Israel
Click for more details, pictures and ordering details
[button link="https://www.galileecalendarcompany.com/up-to-zion/" color="orange" target="_self" size="medium" title="View Details"]View Details[/button]
[/one_third]
[one_third last]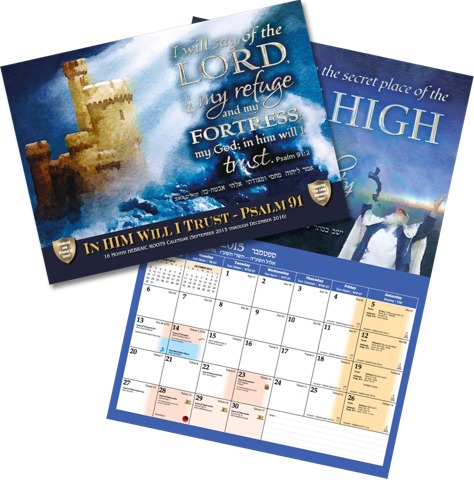 "In Him Will I Trust – Psalm 91" Scripture-Art Calendar with inspired Illustrations of Psalm 91
Click for more details, pictures and ordering details
[button link="https://www.galileecalendarcompany.com/in-him-will-i-trust/" color="orange" target="_self" size="medium" title="View Details"]View Details[/button]
[/one_third]
[clear]
[/raw]
[raw]
WHAT MAKES THESE CALENDARS UNIQUE?
[icon_list style="star"]
All major Biblical/Jewish ("The LORD'S Appointed Times") and Israeli holidays marked and explained in a special reference chart at back of calendar
All dates in both Jewish/Lunar and Gregorian/solar calendar systems, in English and Hebrew
Weekly and Holiday Torah, Haftarah and Gospel readings
SABBATH (Shabbat) beginning and ending times
Highlighting special dates such as blood moon and the ending of the "Shmitah" (Sabbatical) year
Gorgeous photos and art
Pages designed to be framed
Each calendar day has a large writing area. In addition, each calendar month has one or more writing area spaces for reminders and notes
4 Bonus Pages of Hebrew Learning materials (for "The Twelve Tribes of Israel" Art Calendars)
Produced and printed in the land of Israel!
[/icon_list]
[/raw]
[raw]
Our calendars are made by Israeli Messianic Believers and a portion of the proceeds helps to support the work of the local Believing Body as well as the poor and needy in Israel.
"I will bless those who bless you." Gen. 12:3
[/raw]
[raw]
[/raw]
[raw]
HOW DO YOU CONTACT US?
[clear]
[one_third]
www.GalileeCalendarCompany.com
[/one_third]
[one_third]
office@GalileeCalendarCompany.com
[/one_third]
[one_third last]
[/one_third]
[clear]
[/raw]