For Christians, Messianic Believers and Lovers of Israel
16 Months | September 2019-December 2020
Calendars sold out. Our new line of September 2020 through December 2021 calendars will be available June 22nd!
Biblical Calendars and Other Products From Israel
From the Heavens Above
Photo calendar with stunning drone imagery of Israel by various photographers.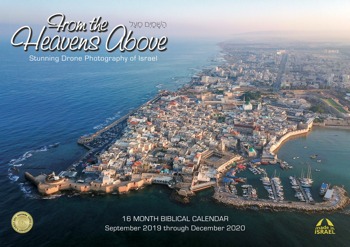 The Holy Land
Art calendar with elegant paintings of historical Israel by David Roberts.
Picturesque Israel
Art calendar with beautiful paintings of Israel by Connie Kind Shishkoff, Israeli artist.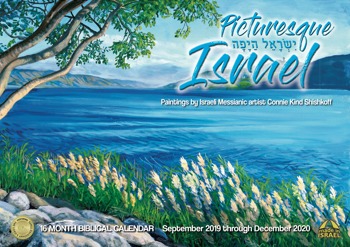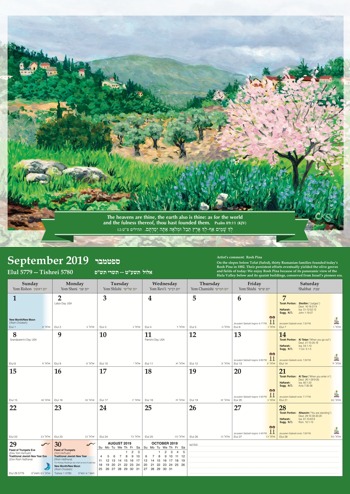 Unique features of our calendars
All major Biblical/Jewish and Israeli holidays with extensive explanation
Plus major U.S. holidays
All calendars feature Scriptures in English and Hebrew
All dates in both Jewish/Lunar and Gregorian/solar calendar systems
Weekly Torah and Haftarah portions plus Suggested New Testament Readings
Sabbath beginning and ending times
GORGEOUS photos and artwork
Hebrew Learning Materials
Pages designed to be frameable
Other special features
Made in Israel
The Holy Land
Featured Artist: David Roberts
Scotsman and prominent Orientalist painter, is especially known for a prolific series of detailed prints of Egypt and the Near East, produced during the 1840's from sketches made while touring the region (1838–1840).
In August 1838, Roberts sailed to Egypt, intending to sketch drawings that he could later use for paintings and lithographs. Egypt was much in vogue then, and enthusiasts of antiquities were keen to buy works inspired by the East, [including the great monuments of ancient Egypt]. Roberts extensively toured Egypt, Nubia, the Sinai, the Holy Land, Jordan and Lebanon, returning with a vast collection of drawings and water color sketches.
Once back in Britain, Roberts worked with lithographer Louis Haghe to produce the lavishly illustrated Sketches in the Holy Land and Syria, 1842-1849, and the Egypt & Nubia series. Subscribers to his work included Queen Victoria of England; her complete set is today in the Royal Collection.
Picturesque Israel
Featured Artist: Connie Kind Shishkoff
Connie Kind Shishkoff was born in 1947 into a reform Jewish family in Philadelphia. From her earliest years, throughout her childhood, and on into university she drew and studied art. She married Eitan Shishkoff when they were 21; and for the next six years they were hippies in the mountains of New Mexico, living simply and close to the land, seeking purity and truth. Eventually, their search was rewarded in the discovery of their Jewish Messiah, Yeshua.
Twenty years later they moved to Israel with their 4 children. Now that the children are grown, Connie is excited to explore her adopted country through art. Eitan is the founding pastor of the Tents of Mercy network of congregations. They have nine grandchildren and live in Northern Israel, near Haifa.
What our customers say
[testimonials_cycle theme="no_style" count="10" order_by="date" order="ASC" show_title="0" use_excerpt="0" show_thumbs="0" show_date="1" show_other="1" hide_view_more="0" output_schema_markup="1" show_rating="stars" testimonials_per_slide="1" transition="fade" timer="5000" pause_on_hover="true" auto_height="container" show_pager_icons="1" prev_next="1" display_pagers_above="0" paused="0"]