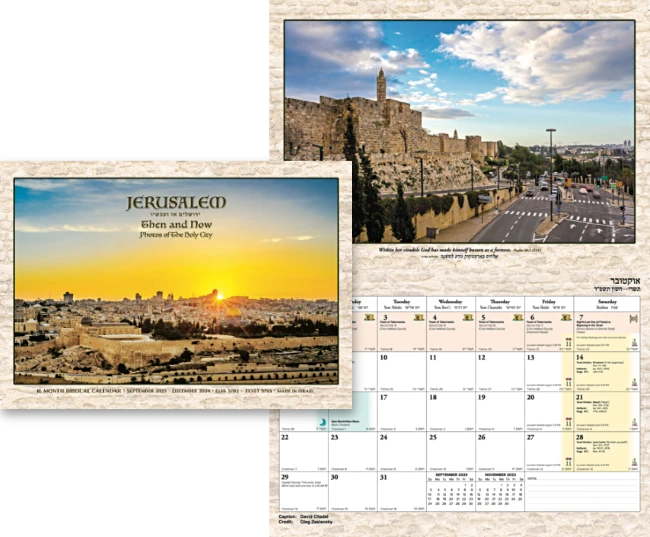 Jerusalem Then and Now
16-month (Sept 2023 through Dec 2024) Photo calendar from Israel featuring stunning photos of The Holy City
ISBN13 Code: 7290016688276
SKU: GCL2024-JTN
1 Calendar
3-4 Calendars
5-14 Calendars
For 15 or more calendars: Wholesale (further discounted) rates apply and are available through our Shopping Cart.
Order 25 or more calendars and receive a 24K gold-plated clip Aleph bookmark
Click Here to View
U.S. orders will begin shipping July 24th.
For Australia and New Zealand orders please
click here
You may combine more than one calendar type and receive the price for the total order on each calendar type. Calendar pricing is in U.S. dollars. However, payment may be made in any currency.
Dimensions
Open 12 x 16.85 inches (30.5 x 42.8 cm)
Closed 12 x 8.42 inches (30.5 x 21.4 cm)
Weight
190 grams / 0.42 pounds
Customization and Wholesale
For customizing the calendar flaps with your ministry information and imagery for 100 or more calendars as well as pricing for 500 or more calendars please contact us at:
[email protected]
Unique features of our calendars
Major Biblical/Jewish and Israeli holidays with extensive explanation, plus major U.S. holidays
Scriptures in English and Hebrew
Dates in both Jewish/Lunar and Gregorian/solar calendar systems
Sabbath beginning and ending times
Weekly Torah, Haftarah and suggested New Testament portions, plus Holiday readings
Sabbath and Holiday Readings (noted on the calendar dates) are also listed in a removable chart format, good for inserting in one's Bible
Messianic prophecies from the Tanach (Hebrew Bible) and their fulfillment in the New Testament
Lovely photos, frameable
Hebrew Learning Materials
A selection of suggested Traditional and Messianic Holiday and other Blessings, in English and Hebrew
Other special features
Made in Israel