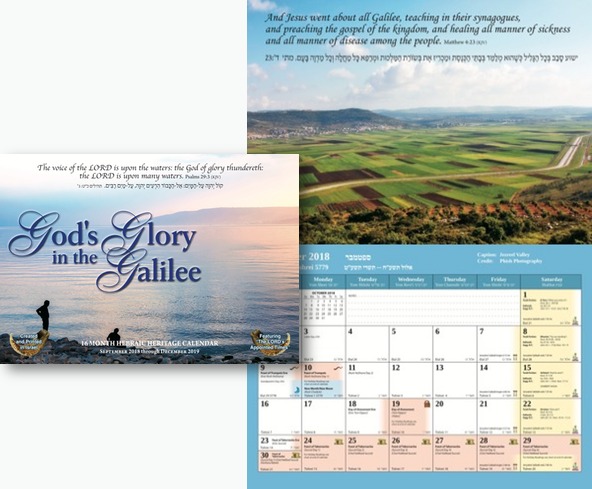 God's Glory in the Galilee
16-month (Sept 2018 through Dec 2019) Photo calendar from Israel featuring stunning photos of the glorious Galilee by various photographers.
You may combine more than one calendar type and receive the price for the total order on each calendar type.
3 or 4:
USD $14.35 per calendar
5 or more:
USD $13.55 per calendar
15 - 250:
Wholesale rates apply and are
available through our Shopping Cart
Calendar pricing is in U.S. dollars.  Payment, however may be made in any currency.
DIMENSIONS:
Open 12 x 16.85 inches (30.5 x 42.8 cm)
Closed 12 x 8.42 inches (30.5 x 21.4 cm)
CUSTOMIZATION & WHOLESALE:
What makes these calendars unique and attractive?
All major Biblical/Jewish and Israeli holidays with extensive explanation
Plus major U.S. holidays
All calendars feature Scriptures in English and Hebrew
All dates in both Jewish/Lunar and Gregorian/solar calendar systems
Weekly Torah and Haftarah portions plus Suggested New Testament Readings
Sabbath beginning and ending times
STUNNING photos
Hebrew Learning Materials
Pages designed to be frameable
Other special features

MADE IN ISRAEL